Crypto-Based Passive Income Methods #1: Lending — Part 3
You can deposit some cryptos in both CEXs and DEXs to earn interest on them.
CEXs are Centralised Exchanges. They are much easier for the majority of us as they are controlled by a single entity. CEXs' dashboards (when you have logged in) are more user-friendly, and intuitive. Your crypto wallet sits at the CEXs, and they control your private keys.
DEXs are Decentralised Exchanges. It operates on smart contracts on a blockchain platform. You will connect your own crypto wallet (and thus you control your own private keys) with the DEXs to interact with it. Generally DEX users tend to be more computer savvy, and a DEX interface can be very alien to the majority of us.
Both types of exchanges have their pros and cons.
CEXs may be hacked, or mismanaged, or suffer from their management team's fraudulent actions (like FTX).
DEXs are not as intuitive to use, can be slow as they operate on a popular blockchain that may be congested at times (which slows down transactions and results in slippages and high transaction fees), have lower liquidity, and there may be vulnerabilities in its smart contract.
With that said, most of us will be using CEXs to deposit our cryptos, as they're much easier to use. Just be aware of the risks.
So let's take a look at what a CEX may offer in terms of interest on your cryptos. The one I have used for more than 3 years now is called NEXO.
NEXO survived the FTX crash, and its competitors Celsius and BlockFi's bankruptcies. NEXO had offered to buy over Celsius and BlockFi last year but its offers were not accepted.
NEXO's actions may suggest that NEXO is in a better position financially and business wise compared to its 2 main competitors.
However, NEXO has also been fined by the US Securities & Exchange Commission (SEC) for some breaches of the US's laws on offering its financial products to US citizens.
It had also been raided by Bulgarian authorities for alleged money-laundering activities.
NEXO has settled with the US SEC for USD45m, and it would no longer serve the US market. It has been mulling a plan to sue the Bulgarian authorities for what it deems to be an unlawful raid.
With that said, if you've been in the crypto world long enough, you'll realize that sometimes the actions taken by the authorities against crypto companies under the excuse of "protecting the public" are basically more to protect themselves.
I'm not saying this is both the cases above, I'm just presenting both the good and the bad for you to assess if NEXO is for you.
I have both lent and borrowed cryptos from NEXO, and both experiences are good and free of any issues all this while. This isn't to say there won't be any issues moving forward, but it's the case with all companies anyway whether it's crypto or non-crypto based.
Having said that, if you're ok with lending some of your money to NEXO's borrowers to earn much higher interest on them than you could get from your bank, then read on.
You can lend out BTC (bitcoin) or ETH (ether) and quite a few other cryptos, but they don't typically earn high interests.
But with USDT (issued by Tether), you can earn more than 10% APY a year in interest.
NEXO will give you other incentives which include giving you a higher interest if you own some NEXO coins, whether you're holding it for a fixed term, and what level you are in NEXO as a member.
This way the NEXO coin has its own benefit other cryptos don't have, which differentiates it from the others, and which may increase the demand for it.
So if you have some spare USDT, or waiting for the right time to buy BTC or ETH in the meantime, you can still make some decent interest on them by depositing it into your own NEXO account.
Here's the interest NEXO is currently paying out for USDT deposits:

Here's how you can earn up to 16% APY on your USDT deposited in NEXO:
So if you're a Platinum member (the highest tier in NEXO — you qualify by having 10% of your total crypto holdings in NEXO, in NEXO coin), you will earn:
11% if it's a FLEX Term account (no fixed term)
14% if it's a Fixed Term account
You get an additional 2% if you choose to earn your interest in NEXO coin instead of USDT.
NEXO has 4 Loyalty Levels, depending on how much NEXO coins you hold: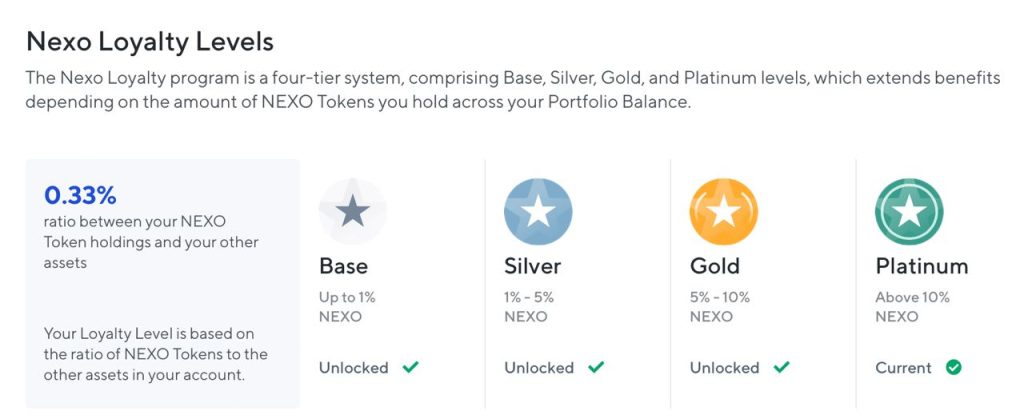 So if you own less than 1% of your crypto portfolio in NEX coins, you're at Base level. Your interest on your USDT is a max of 10% APY.

If you're risk averse, you may wish to earn your interest back in USDT, instead of in NEXO coins. This is because USDT's value doesnt change over time, but the NEXO coin will.
It's not a problem if the NEXO coin increases in value over time — but this is not a certainty. But if you think NEXO has a lot of potential to grow, then you may want to earn your interest back in NEXO.
For the others, earning your interest in USDT may be preferred as there's no risk in it losing its value since 1USDT is backed by 1 physical USD in Tether (the company that issues USDT)'s vault.

If you're more adventurous, then you may want to look at AXS, which pays out 36% APY a year.
Note that you will get back this interest in AXS, so if AXS loses in value during that time, this high interest doesn't mean much.
On the other hand, AXS may also multiply in value during that time, giving you even higher than a 36% APY a year.
Axie Infinity is a monster-battling game where you pit teams of cute monsters called Axies against each other in battles. It runs on the Ethereum blockchain.
AXS is used as a governance token for the game. If you own AXS you can vote on the future development of the game for a better gaming experience.
AXS can also be used to breed the monsters in the game called "Axies".
Within the Axie Infinity game you can also buy and sell NFTs of the Axies.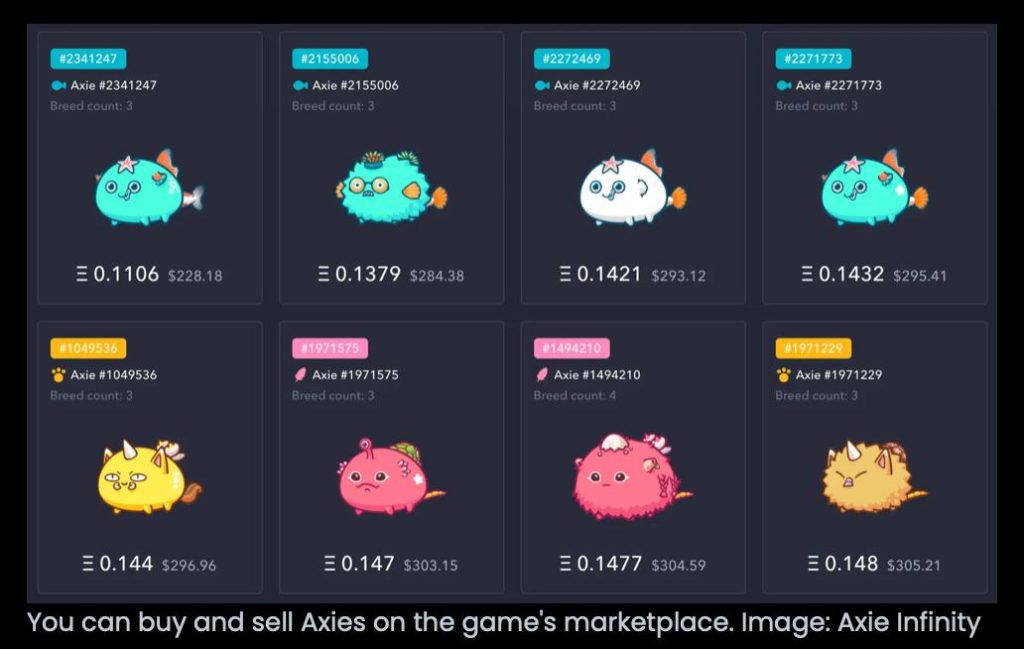 If you're not in the gaming community (like I'm not), you'll probably pass on exchanging your USDT for AXS and earning interest back in AXS or NEXO coin. This is because if you don't play the game, you won't have any idea how it is progressing, which will directly impact the demand for AXS and in turn, its price.
This concludes the lesson on Lending.
There's much more you can learn about this passive income method, you need to simply go to the NEXO website.
If you sign up for a NEXO account using the following link, and you fund your account with at least USD100 worth of cryptos, you and I will get USD25 worth of bitcoin for free:
https://nexo.com/ref/dnktx665jj?src=web-link
Once again, be aware of the risks in any site that you go to, especially when it involves money. This is the case whether it's a centralised or decentralised platform — so make an informed decision before you commit to it.