Sen Ze & Friends Live Chats
On ZOOM
Join Sen Ze as he chats with leading thought leaders, entrepreneurs, technology developers and more.
We are at the GMT +8 time zone (Hong Kong, Singapore, Malaysia). Click here to get your local time.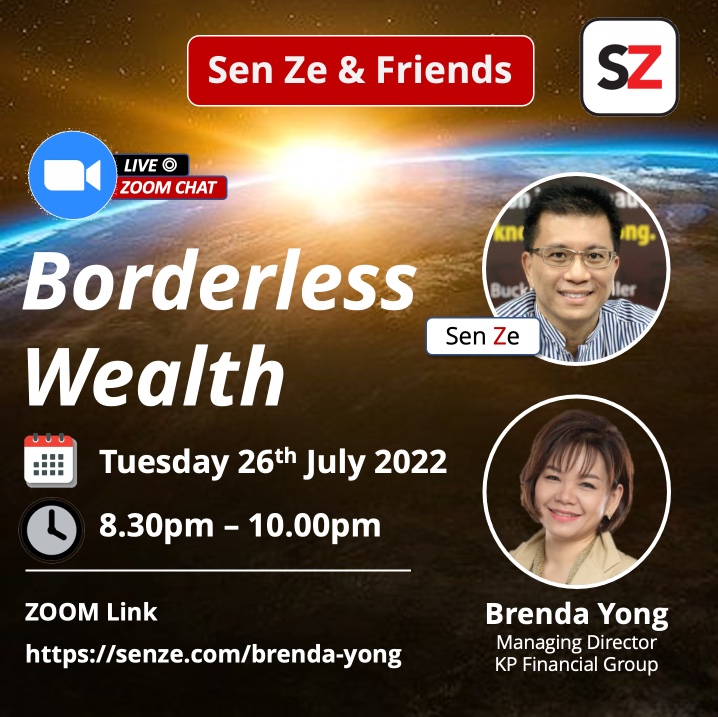 Brenda Yong will reveal some little-known methods to help you retain and even increase your wealth despite the very high inflation the world is experiencing right now because of multiple reasons.
This involves moving some of your wealth to certain countries.
But where?
And in what form?
In particular, the Russia-Ukraine war has created new wealth opportunities in places where none existed before, in a few different countries.
They include turning common waste into a useful product that also improves the environment at the same time.
Brenda will also touch on the 3 types of Intellectual Property (IP) that are available worldwide.
Recognising those opportunities and taking advantage of them is how you can increase your wealth despite the chaos and high inflation brought about by conflicts in the world.
Most people have no clue what they are. Be among the few in the world to know this coming Tuesday 26th July 2022!
Brenda Yong is an award-winning and a top 40 Licensed Financial Advisor by the Securities Commission.